T-Shirt War
by
Douggie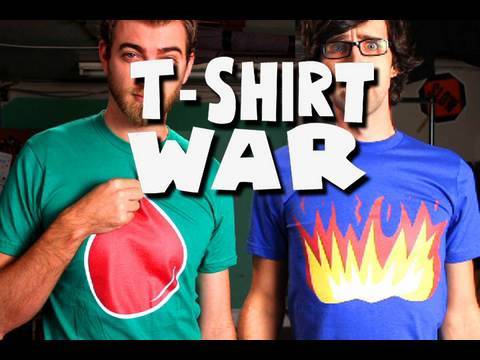 A stop motion video where there's animation on shirts! Over 222 shirts have been used in this Rhett & Link music video directed by Joe Penna. Here's some info from YouTube:
We changed shirts over 100 times each, taking individual pictures of each unique shirt. The designs on the shirts are not photoshopped. They are real shirts for each frame of animation. The video was exported at 30fps, while the T-shirt animation moves at 6fps (with a few exceptions where it moves faster) So, for each shirt, we took 5 pictures, so the animation of us (Rhett&Link) moves at 30fps, but the T-shirt animations move a bit slower. There are a few places where the motion seems so smooth that it looks like video. That's because, in those parts, there was no changing in T-shirts, and Joe used burst mode to capture the frames, making it look very smooth.
It's smart how this doesn't only meant to sell their music, but shirts as well!